We entered the Illusionarium, an immersive and technologically enhanced dining room, for the Cirque Dreams and Steam show. The show is inspired by Science Fiction, Victorian Fashion, Steampunk & the Industrial Revolution.We were seated by our hostess. Steve had reserved the "floor" seating, as it was billed as closer to the stage. The hostess and staff was dressed in steampunk style garb. They offered us drinks and then gave us a menu to let us know what we would be eating.
While we were waiting for and during our dinner cast members came out dressed in incredibly elaborate costumes. The first lady was dressed in the Industrial style with her being made of metal pipes.
None of the "characters" were named so I named some of them. This one I called the clock lady. I didn't get a photo of her clock down. She walked around with the clock up most of the time. I was amazed how long she could hold up her arms to support her clock. The third picture shows how she was hold it up.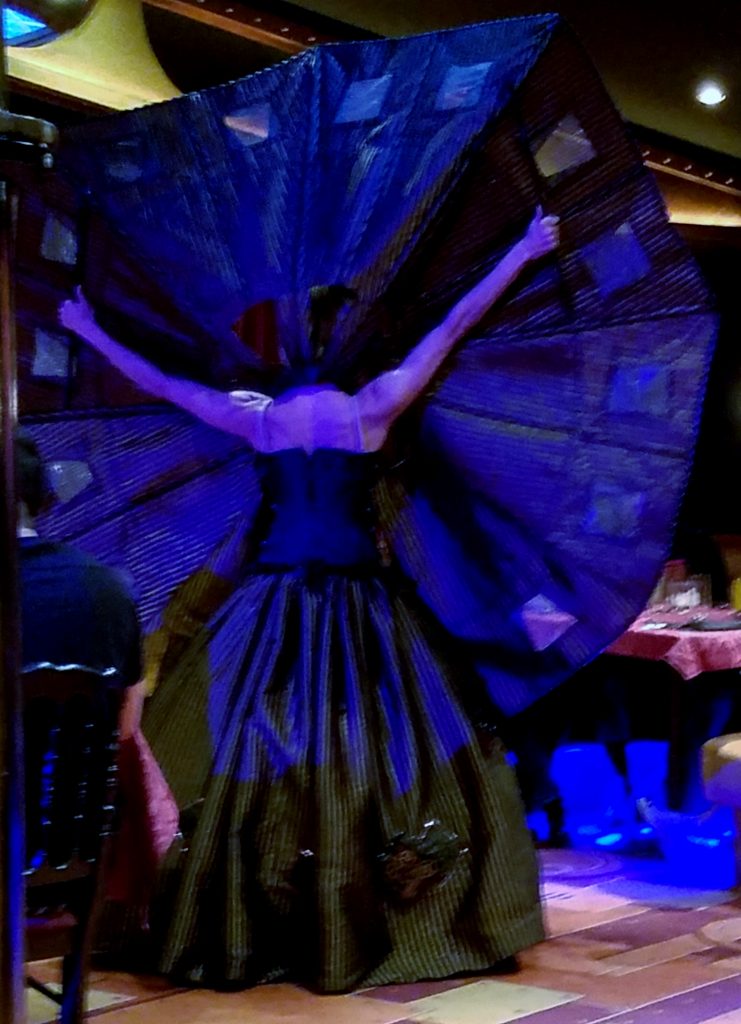 The honey cone man came out and his custom was of the Science Fiction element because of his chest plate. He walked around the room, then took the stage and opened his costume up. What a surprise that was! Then he turned around and then he turned around.
Then entered the bird man. The colors were fantastic and He had to take the stage to open up his wings. The span was unbelievable.
The Gear Lady arrived with his costume was inspired by Science Fiction, Victorian Fashion, Steampunk & the Industrial Revolution. Her gears where turning, her skirt was made of steel pipes with fabric attached like a curtain on a rod. She had so much going on it took awhile to take it all into your brain.
The Victorian Steam Punk theme was detailed, creative and visually compelling. The acrobatics and juggling were some of the most ambitious we have seen. A man stood on a plank, on a ball, tossing teacups and saucers onto his head. There was an acrobatic biker, a sword thrower and his assistant and acrobats hanging from fabric from the ceiling. A woman lying on her back juggled hula-hoops and balls simultaneously with her feet and hands. The show moved very fast and before we knew it came to an end. This was an extra cost dinner but was worth it.