On Wednesday, the 27th, the kids were here to celebrated Steve's 71st birthday with cake and presents. Since Derek had to work, birthday cake was sent home for him to enjoy later. On Thursday, while the Shetlar's visited with his family, we cooked food for Friday. Papa peeled 10 lbs of potatoes; Steve did some food prep and made a new recipe of cookies; Samantha made cookies from her class at school; Kristie made mashed potatoes and stuffing while I worked on other veggies. Afterwards we had a small Thanksgiving dinner for five. Friday, with the entire family together, Holan prepared deviled egg and corn casserole while Steve prepared sweet potatoes. Kristie was in charge of cooking okra and warming the other foods. I was on dish duty. Papa was on rest duty, but did help with the clean up after dinner. We sat down for our family dinner. Of course, we were all very careful not to over eat!!
Austen enjoyed the sweet potatoes the most and was his usual happy self.
After dinner the girls took charge of putting up the Christmas tree. There was a little confusion on what trees we had upstairs. There were so many lights out on the 12 feet tree last year that we had to discard it. Turns out we had purchased a small tree to go on the back porch and used the porch tree in the living room. Now the small porch tree will be used as our main tree this year. Everyone looked on as Kristie shaped the tree.
Steve and I put the gold beads we purchased in Germany at the Nürnberg Christkindlmarkt in the 1980s,
I picked out the ornaments as the girls placed them on the tree.
Just a little difference between the little tree and big tree.
On Halloween Austen didn't have his dragon costume so Sam and him posed as dragons in front of the tree.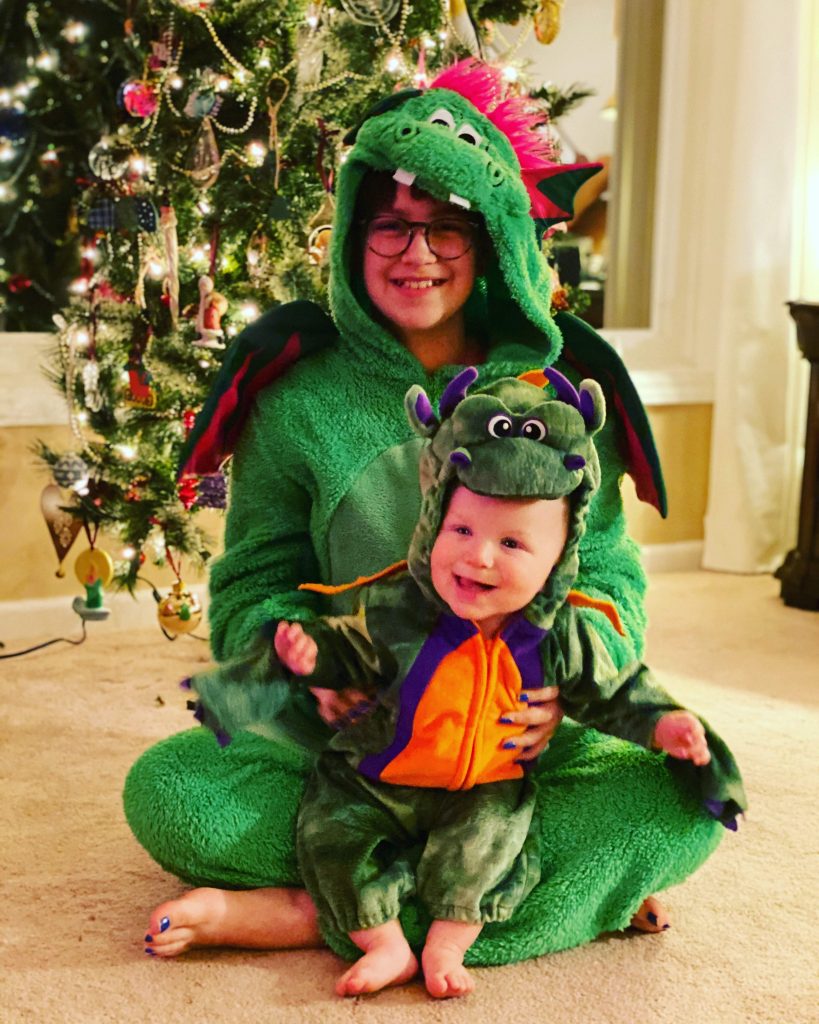 Later Sam would do a cartwheel with her feet landing in the tree. It was a good thing she didn't cut her foot with the dance performances coming up in the next two weeks!