We had made our upper west loop of our adventure, it was time to turn back east, back to Rapid City. The morning was very gloomy and raining so the mountains were hard to see as we left Jackson Lodge.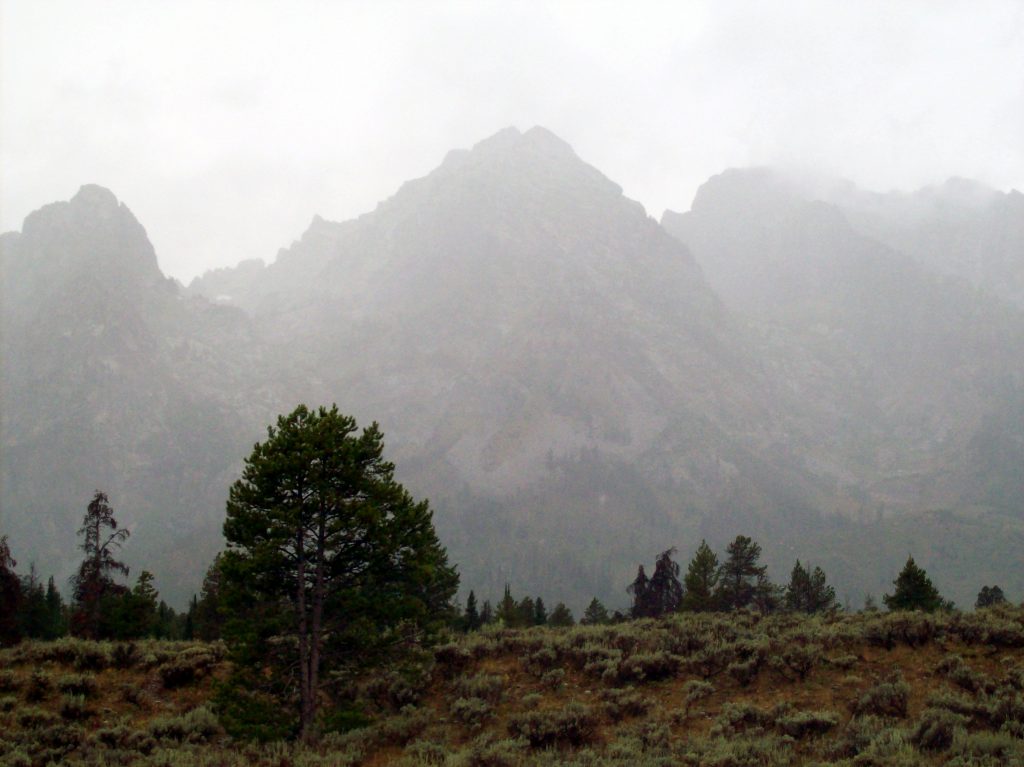 We came upon Lava Mountain Lodge, situated on The Togwotee Pass in the Shoshone National Forest. We dashed into the General Store as the sky opened up and dumped a ton of water on us. The store housed the Wilderness Boundary Restaurant, a liquor package store, a full service bar, and a laundromat. They had a gas station, small campground, lodge rooms, vacation rental cabins and camping cabins. There was also a wide selection of the usual tourist items and snack foods.
By the time we were ready to leave the rain had slowed and we were able to take in the sights on the outside. The bear was so cute. Hanging flower baskets were covering the porch along with hummingbird feeders with several birds eating from them.
Just a few miles down the road, we found no road. It was the strangest thing I think I have ever seen. It appeared that the entire road had been removed and there was nothing but mud. We were in line with several other cars when a pilot truck showed us to lead us to where the mud turned into a regular road.
We continued our journey through the Badlands National Park. Its dramatic landscapes span layered rock formations, steep canyons and towering spires once again could not be captured with a camera. These are just three of the many pictures we took, as a little reminder of the experience.
We arrived in Casper, checked into our hotel and was on search for food when saw this place, Stanford's Grub & Pub. The outside was a feast for the eyes so maybe the inside would have wonderful food. The sights on the inside did not disappoint nor did the grub. This was the story given on the menu as to the background of the Pub. "Short Story Once upon a college exam, a few guys got together drinking beer, eating food and watching reruns on the boob-tube and began thinking of what the heck they were going to do with the rest of their lives. So, realizing what they do best – which is drinking beer, eating food, and watching T.V. – they decided to open a place called Sanford's. Now the only thing that stood in their way was designing the décor – it ended up being the easiest job. After a few garage sales, digging through basements and a couple of junk yards, Sanford's Grub & Pub was born. So what the heck, we learn something in school!"
What a fun place!!!