The Hale Koa is a hotel resort for military members and their families located right on Waikiki Beach. Not only for active duty of all services but DoD Civilians, other uniformed services, retirees and certain categories of separated members can stay at the Hale Koa. It is a very nice hotel and has a much lower rate than other hotels. It has a massive open air lobby with lots of seating, just a nice place to people watch.
It's interesting that the land Hale Koa sets on, was once considered "undesirable". When you step out the back side of the property, you're on the sands of Waikiki Beach.  We were told to be sure to check out "Gus" the huge Banyan Tree on the beach side of the hotel. We have only been in Hawaii two days and we have seen a lot Banyan Tree but nothing as large as "Gus."  The courtyard between the two main buildings is beautiful.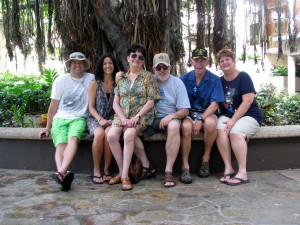 A nice man walking by took a group picture for us under "Gus".
As you can see Fred already has been to the Hale Koa and bought the t-shirt.